Sounds of water running.
Jaws dropping.
Feet hitting carpet...squishing.
Frantic phone calls.
Waiting what seems like hours, days.
Shop-vacs sucking.
Fans whirling.
Silence.
Last week my washer proceeded to flood. Well scratch that, let's start at the beginning. It all starts the same way, I start to remind M that it might be a good idea to wash his towels. He tells me that they are
JUST FINE
and I disagree saying they smell, which is apparently something only someone
FEMALE
can smell and ends with him relenting. To be nice I offer to let him use my washer & dryer because you don't actually have to pay for each use in quarters and we're on our merry way.
That is until this time. We put the towels in the washer and proceed to make dinner and once we eat I go to check on the laundry. That's when I hear water still running, see water in the bathroom and feel that squishy yucky (hot!) water under my feet. In that second I'm frozen until the only thing I can do is yell "M!!!!!" He runs for more towels, I call the emergency maintenance line for my apartments and then I wait. And wait. Stupid phone line is actually a pager so someone has to call me back. Luckily I get the call back soon but then proceed to wait until they finally show up.
But they did and were surprisingly helpful. One round of the shop-vac and them telling me how great it was that I caught the flooding early. Two days of fans drying out my carpet, I now have that sound of industrial strength fan buzzing through my ears at a moment's notice.
My poor downstairs neighbor was not nearly as fortunate. She wasn't home for most of it and the maintenance people had to poke holes in her ceiling to get the water to flow...and flow it certainly did. But we're now back to normal with no indication it happened in the first place.
Yikes, I don't know how people deal with this when they own their own home. Still wish we could find the perfect one, we've been on the search since October.
But in much happier news, have you voted for
LiLu
to be MTV's new Twitter Jockey?!?!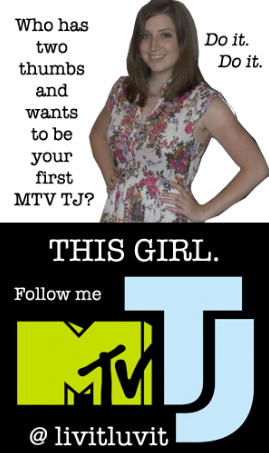 Please please vote for her, she's one of my first commenters on this blog and I love her dearly.